From the 1930s through the 1970s (and into the 1980's), asbestos was one of many naturally occurring minerals used in the manufacture of building materials in the United States and Canada because of its durability and high resistance to heat and chemicals.
Asbestos was widely used during home and building construction in areas where materials could come into contact with heat for a prolonged period. Asbestos was frequently used in attic insulation, wall insulation, and spray coating insulation around heating ducts and pipes.
The importance of fruits and vegetables for bodybuilding – blog de musculation et bodybuilding 12045 avana 200 in australia what is glutamine used for in bodybuilding? muscu bodybuilding advice.
Some commercial buildings used insulation boards in boiler rooms. In 1970, EPA disclosed that asbestos-containing materials posed a health hazard, so manufacturers began using other materials to manufacture insulation. Health Canada requested that the Canadian government add asbestos to the global list of hazardous materials in 2006. In 2018, the Canadian government banned the use of asbestos, except in  nuclear energy, military facilities and the chlor-alkali industry.
Types of Insulation
Many homes and buildings built pre- 1985 may still contain asbestos. It is difficult to identify whether or not insulation material contains asbestos. It also has no distinctive smell, but certain manufacturers made their insulation with a distinct look and feel. Here are the types of insulation commonly used in homes and buildings:
Insulation That Commonly Contains Asbestos
1. Loose-Fill Insulation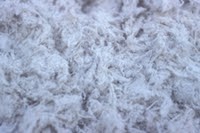 (Source: Lawyers and Settlements)
The types of insulation most commonly made with asbestos are loose-fill insulation, which comes in a variety of forms. It can be identified by its loose, lumpy form and fluffy consistency. This type of insulation never has paper, or other types of backing, like some (but not all) batt and blanket insulation does.
Interested in learning more? Check out these blogs:
2. Vermiculite Insulation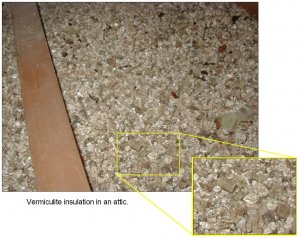 (Source: DSP Inspections) 
Vermiculite-fill insulation is one of the most common household materials that contain asbestos. Vermiculite insulation looks like pebbles and typically is grayish-brown or silvery-gold. It is made from mineral material. 
3. Zonolite Insulation


(Source: DSP Inspections)
In the U.S., most vermiculite insulation containing asbestos was sourced from a mine near Libby, Montana, which was active until 1990. It was sold under the Zonolite brand name for about 70 years. Raw vermiculite taken from the mine was contaminated with asbestos. Roughly 70% of vermiculite attic insulation originated from the Libby mine.  
Zonolilte insulation is often a silver-gold or gray-brown color, has accordion-style texture particles, and will lay flat against a joist cavity.
 Insulation That Is Known To Be Safe From Asbestos
4. Cellulose Insulation
Gray, soft loose-fill insulation without shine is likely cellulose insulation. Cellulose is mostly recycled paper and has no minerals. it looks like shredded gray paper and is a perfectly safe type of insulation commonly blown into attics. It also comes in batt or blanket form.
5. Loose-Fill Fiberglass Insulation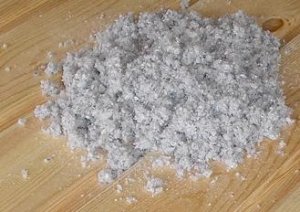 (Source: Wikimedia)
White, fluffy loose-fill insulation that has a little shine is probably loose-fill fiberglass. It is a glass product, so it has a shine when subjected to light. It looks like cotton candy and is composed of fine fibers. Fiberglass can irritate the skin and could cause respiratory irritation, but it is not known to contain asbestos.
6. Rock Wool Insulation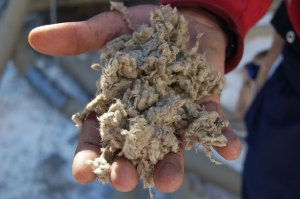 (Source: Static Flickr)
Rock wool insulation is a mineral-based loose-fill insulation, which has a fibrous, soft, cottony texture. Rock wool insulation can be gray, cream-coloured, or a dirty white. It is made by melting basaltic rock and dolomite and adding binding ingredients. Rock comes as loose insulation or woven insulation batts. It is not known to contain asbestos. 
Don't Risk Being Exposed To Asbestos.
When asbestos-containing materials deteriorate over time or become disturbed or damaged, asbestos fibers can be released into the air posing severe health risks. Once released, these fibers can be breathed into your lungs.
Prolonged exposure to asbestos can result in fibers building up in your lungs, causing lung cancer and mesothelioma, a cancer of the lung and abdominal cavity lining.
Eliminate your risk of exposure to asbestos. Before beginning any remodeling or renovation project, it would be greatly recommended for you to arrange asbestos testing with properly trained professionals that specialize in handling hazardous materials.
Why Should You Choose Ferro Canada for Abestos Removal?
Ferro Canada provides remediation and abatement of environmental hazards, including asbestos, contaminated soil, lead, mold, PCB, contaminated storage tanks, and infectious materials.

The FERRO team includes the most responsive, the most experienced, and the most dedicated environmental contracting professionals in the business. 

Abatement & Remediation aren't services we "also do."

It's what we do.

  

FERRO is a member of the Environmental Abatement Council of Ontario and is fully insured, bondable, and WSIB current.
If you think you've uncovered hazardous materials in your home or business, it is essential not to disturb it.  Call FERRO Canada.