Hazardous Materials Abatement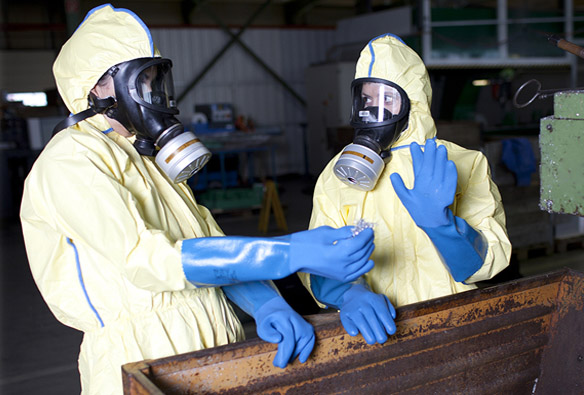 Hazardous materials comes in many forms, while its impossible to specialize in them all, we here at FERRO are familiar with most. The removal of these different hazardous materials has never required more expertise than it does today. Fortunately, abatement isn't a service that we "also do". It's what we do.
If you have discover hazardous materials in your facility, contact FERRO Canada for safe and efficient HAZMAT removal.  If you think you've uncovered hazardous materials in your home or business, it is important to not disturb it. We can recommend a qualified environmental consulting firm who will come and take samples (usually 3 samples per material) and have them analyzed at a lab to confirm whether or not you are dealing with a hazard.  Call FERRO Canada for a list of reputable environmental consultants in your area.
HAZMAT testing can take up to 3-5 business days.  If the material is deemed a hazard, you can ask the environmental consultant to put a scope of work together that outlines precisely what work needs to be done and how it should get done based on your local protocol or regulations.  They will advise if you can continue to remain in the space while the HAZMAT remediation and removal takes place or if evacuation is necessary.
Always get the environmental consultant to come back and take clearance samples and inspect the quality of the HAZMAT removal process. This will give you peace of mind that the hazardous material has been eliminated safely. Because FERRO Canada provides turn-key re-construction services, we can usually put back whatever building materials need to be taken out to access the Hazmat.
Don't be fooled by contractors who "say" that they can remove a hazardous material – always ask questions. Environmental contractors should be WSIB current, they should have the proper environmental liability insurance and their crews should be fully trained and knowledgeable.
(for your free checklist on choosing the right abatement company and avoid getting scammed by "fly by night" outfits use this link)    
LEAD ABATEMENT
With the risks associated with lead exposure so high, lead abatement must be swift and safe. Lead exposure can include anemia, damage of the brain and nervous system and learning disabilities, with particular dangers for children.
Lead in a facility is most typically associated with lead-based paints and building materials, but because lead gasoline was once so prolific, it often appears in old, settled dust found in ducts and rafters, resulting in "sick building syndrome". The FERRO Canada team are experts in efficient and effective lead abatement in both commercial and residential facilities.
Both the Ontario Ministry of Labour and the Occupational Heath and Safety Act are clear that lead abatement must take place if there is risk of exposure of building occupants. If you discover lead in your home or business the best solution is to contact a qualified Lead abatement company.
Lead abatement companies should work with the environmental consulting firm to properly remove the material as per the specification outlined and of course always per the OHSA.
(for your free checklist on choosing the right abatement company and avoid getting scammed by "fly by night" outfits use this link) 
 PCB REMOVAL
FERRO Environmental teams are trained to comprehensively classify, package, transport, recycle, and destroy polychlorinated biphenyls or PCBs.
PCBs are industrial chemicals synthesized and manufactured for use in many different products from hydraulic fluid to casting wax, pigments, carbonless copy paper, plasticizer, vacuum pumps, compressors and heat transfer systems. Because of their stability and resistance to thermal breakdown the primary use of PCBs was as a dielectric fluid in electrical equipment – most commonly found in transformers and capacitors.
FERRO routinely handles both the removal and disposal of PCB contaminated soil, transformers, capacitors and ballasts according to all applicable environmental laws and regulations. We ensure that any such equipment is properly extracted and sealed in government regulation drums, properly labeled and shipped to a registered storage facility to await destruction. When you choose FERRO, you can rest assured that any PCB containing equipment is being properly handled according to all existing government regulations and guidelines.
INFECTION CONTROL
Construction activities in health-care and long term care facilities can release dust containing fungal spores and bacteria that can be serious or fatal to patients, and therefore require rigorous infection control protocols. With a proven track record working with major health networks across Ontario, the FERRO team is trained to adhere to the highest infection control standards.
On-site, our team creates and maintains negative air pressure in work zones adjacent to patient-care areas for maximum infection control. We monitor negative airflow inside rigid barriers and review documentation to verify that pressure differentials were appropriate for their settings. For major repairs in patient areas that include removal of ceiling tiles & disruption of the space above the false ceiling, we follow infection containment protocols to control and remove dust.
TRAUMA CLEANUP
The FERRO team is specially trained to handle stressful trauma scene clean-up discreetly and professionally. When a tragedy or crisis strikes, we are the trusted name for the cleaning and remediation of blood and other potentially infectious materials from your home or business without additional grief or devastation.
Many assume that emergency services take care of blood trauma clean-up. In fact, that task is left up to the property owner. The FERRO team will develop an effective and efficient program for cleaning after accidents, trauma, illicit drug labs, blood borne and airborne pathogens. Our C.R.A.S.H. Team is standing by 24/7 ready to respond to the cleanup of any emergency scene.
(for your free checklist on choosing the right abatement company and avoid getting scammed by "fly by night" outfits use this link) 
| | |
| --- | --- |
| | Do you have concerns about hazardous materials in your home or business? FERRO ENVIRONMENTAL can be on-site and on-call 24/7 by calling our C.R.A.S.H. Team at 1-877-429-7760 |
Environmental Remediation Services: