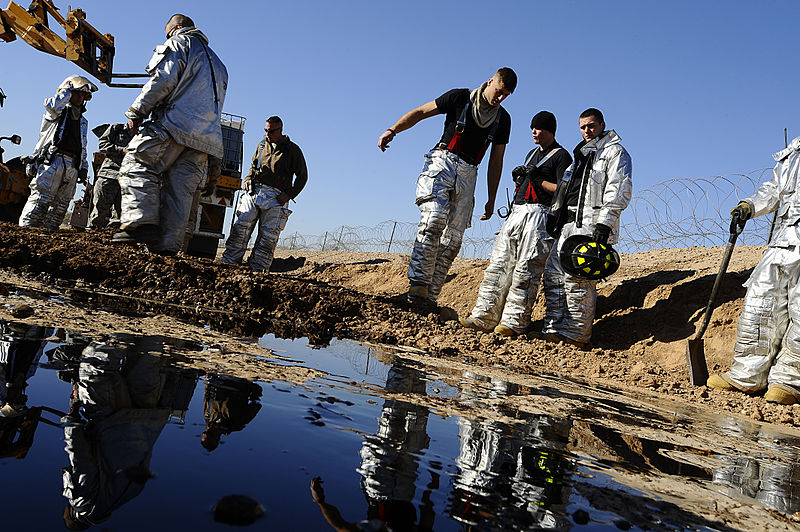 An accidental outdoor release of contaminants can have devastating consequences for both the responsible party and for the environment.
Depending on the chemicals involved, a spill can contaminate local soil and groundwater for decades.
In fact, one Ottawa property owner was recently forced to pay more than $1.8 million damages resulting from an accidental release that happened 40 years ago.
Regardless of the number of years that had elapsed, the courts made it clear that while the penalties for accidental spills are steep, failure to report it can have even greater consequences.
In the event that you are involved with an accidental spill of hazardous materials, what steps should you take?
Which laws and regulations govern spill reporting? To whom do you report it?
It goes without saying that prevention is the key to saving yourself money and hardship. However, if you're ever unsure about the dangers of a spill, it's always better to default on the side of caution.
Being able to take quick action can make an enormous difference in the spill's severity, which is why it's critical that you have a spill response plan at the ready.
How to Recover From an Outdoor Spill Incident
In Ontario, the rules surrounding the handling of hazardous spilt material are set by provincial and municipal regulations. Because of this, your specific requirements may vary depending on your location.
With that in mind, here are the steps to take when faced with an accidental release of hazardous materials into the environment.
1. Take Spill Cleanup/Containment Action
The Ontario Environmental Protection Act requires that every action possible be taken to contain the spill and mitigate potential damage or health risks.
The following steps should be your first actions:
Assign response teams to handle cleanup and assign responsibilities. Since quick and deliberate action is essential, everyone should be clear about what needs to be done.
Ensure response teams can enter the site safely. In addition to providing adequate safety equipment, ensure that the nature of the spill and/or the materials involved won't pose an immediate health hazard to the response teams.
Consult with environmental services experts if you don't have the expertise. If you're unsure about the scope and potential impact of the spill and you're unsure about how to proceed, it's a good idea to get help as quickly as possible.
2. Assess the Spill
Regardless of how it happens, the first persons on the scene – whether at the time of the incident or after – will be responsible for the initial reporting.
For that reason, those individuals should try to assess and document the following:
Time of spill (if known)
Duration and whether it is contained or ongoing
Volume (if known)
Substances and quantity involved in the spill
Precise location
Current environmental conditions of the site
Hazardous effects
At this time it's important to make sure that the notes and/or initial reports are as complete and accurate as possible. If possible, include photographs as part of your documentation.
3. Decide on the Appropriate Spill Recovery Response
In some cases and depending on the amounts released, the spill may not have to be reported. Ontario Regulation 675/98 of The Environmental Protection Act requires reporting when the spill is either 100 litres or more, or 25 litres or more where the substances may have entered a waterway.
Regardless of the reporting requirements, you'll still be required to take action to contain and clean up the materials otherwise you could be at risk for future legal liability. That's why it's best to get legal or professional environmental advice if you're unsure about your reporting requirements.
4. Report the Spill (If Necessary)
If the circumstances warrant that it be reported, you'll need to notify the following governing bodies and individuals.
The Ontario Government's Spill Action Centre provides instructions and information about who to contact. In addition to filing the report, they will provide further instructions and co-ordinate with other stakeholders and/or levels of government.
Many municipalities also have regulations surrounding environmental spills. For example, the Toronto Spills Response policy outlines any additional steps that may need to be taken for businesses or individuals located within the city.
The property owner should be advised as soon as possible.
The spilled substance owner (if applicable or if different from the responsible party)
Conduct Follow-Up Activities
After the spill has been reported and clean up and/or containment activities have been completed, local environmental agencies may determine that certain follow-up activities need to be undertaken.
Designed to ensure that the substance has been adequately removed and that it no longer poses any environmental or health risks. These can typically include requirements to conduct ongoing soil testing at specified intervals, as well as for remediation efforts in case initial containment efforts weren't successful.
Fast Action is Critical in an Accidental Outdoor Spill Incident
In the event of a spill, fast and decisive action is necessary to reduce the severity, minimize threats to the environment, and reduce your liability. And while spill prevention should always be your top priority, having an action plan at the ready will help make sure you are ready to respond should the worst occur.
Ferro Environmental provides expert soil and ground remediation services to help you deal with an accidental outdoor spill incident as quickly and effectively as possible. If you're faced with an environmental emergency, contact our C.R.A.S.H response team for immediate help.