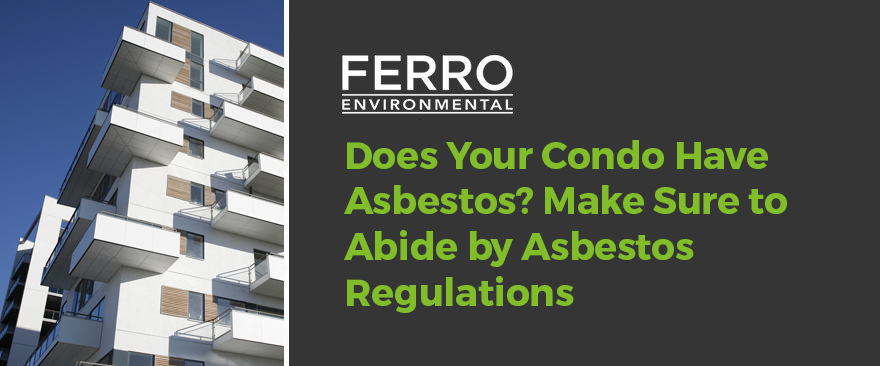 Asbestos is a severe health hazard that property owners will look to avoid (and rightfully so). The substance, which was very popular in Canada as an insulating and fire-prevention agent, has lost traction in the construction of new buildings.
However, in 2013 Statistics Canada found that Canada had imported $6 million in asbestos material (mostly for brake pads for cars). In addition, old buildings – i.e. those built before the 1980s – are likely to include asbestos.
Thus, the threat of this cancer-causing agent still lingers, though the Government of Canada is now taking firm legislative steps to totally ban its use in the country. That said, regulations for its use – especially when it comes to tenant health and asbestos removal – are already in place.
The Dangers of Asbestos
Today, asbestos is regarded as a severely dangerous health hazard, especially as it has been the cause of cancer fatalities for decades since its widespread use. However, in the 1960s the substance was very popular, especially for Canada which had widely exported it (with Quebec alone mining 40% of the world's serpentine asbestos supply).
What is Asbestos?
Asbestos is a naturally occurring fibre-like substance. There are two kinds of asbestos in use: serpentine and amphibole, though the most popular form is serpentine, specifically chrysotile. This form of asbestos has a thin, fibre-like form that can easily be woven, which made it very popular in the construction and manufacturing industries.
A Health Hazard
Asbestos is an easily 'friable' substance, i.e. it's easily crushable into a powdered form that can be inhaled into one's vital organs. Those exposed to asbestos over a long period of time are at critical risk of developing certain forms of cancer, including lung cancer and mesothelioma.
The federal and provincial governments consider asbestos an active threat when people are exposed to inhaling its fibres. In other words, asbestos that's fully sealed (e.g. within walls) is not a health hazard. However, older buildings are at high risk of asbestos exposure due to the fact that they have damaged walls and structures.
Asbestos in Canada Ban
The federal government began moving on a complete asbestos ban in January 2018 through its Prohibition of Asbestos and Asbestos Products Regulations bill. Although this legislation will ban asbestos use moving forward, it's unclear how it will address asbestos in existing buildings.
It wouldn't be surprising if stricter measures (on health and safety grounds) are introduced in the coming years. As of today however, Health Canada requires asbestos in buildings to at least be sealed with no risk of exposure. That said, it would be best practice to remove asbestos entirely.
---
Learn More about Asbestos in Buildings:
---
How Do I Handle Asbestos in My Condominium?
Generally, new condominiums are unlikely to have asbestos containing material in areas near the surface, such as the drywall and Heating, Ventilation and Air Conditioning (HVAC) system.
However, in 2014 the Globe and Mail reported that builders were still using asbestos in piping systems in new condos, hospitals and high-rise buildings. Though still occurring, the public is certainly aware of the health risks of asbestos and, as a general rule, property owners across the board would prefer asbestos to be gone entirely than be a risk, no matter how 'controlled'.
Complying with Condominium Regulations
As it stands today, condominiums are obliged to ensure that there is no risk of tenants being exposed to asbestos. Thus, as long as there is no structural damage to your plumbing, ceilings and/or drywall, then legally speaking, you should be compliant with current regulations.
However, older condominium buildings could be at risk of asbestos exposure due to decay in the walls sealing away asbestos containing material. This issue should not be taken lightly as even the slightest disturbance (such as a chair knocking against a wall) can result in asbestos exposure, and small – but long-term – exposure can greatly raise the risk of cancer in tenants.
Inhalable asbestos particles are practically microscopic, so they don't require much in terms of cracks or gaps to move into the air of living spaces, such as bedrooms or living rooms.
Although there are no laws (yet) mandating condominiums to remove asbestos, those with older buildings are strongly advised to prepare themselves. If not for future regulations, then at least for the gradually growing risk of asbestos exposure aging (to drywall, ceilings, etc) bring.
Repair & Renovations
If you're undertaking a renovation project that could involve disturbing your asbestos containing material, then you're required to follow federal and provincial regulations for asbestos handling and removal. Simply put, any and all exposure to asbestos becomes a compliance issue.
In terms of asbestos removal regulations, you're required to two achieve to main objectives:
First, you must properly determine the scope of your project. For example, your job could fall into one of three categories – Type 1 (1-10 sq. feet), Type 2 (10-100 sq. feet) and Type 3 (100+ sq. feet). Type 2 and Type 3 projects require major safety precautions such as worksite barriers and decontamination sites.
Second, you must ensure that asbestos removal, handling and disposal work is done in a way that guarantees the safety of your workers and tenants. This includes protective equipment for workers, barriers closing-off the worksite and proper cleaning equipment.
Note: we had outlined these regulatory issues in detail in a previous blog entry.
---
Worried About the Costs of Asbestos Removal? We Have Resources That Can Help:
---
Get Professional Asbestos Abatement Services
To fully ensure compliance, health, and safety of everyone involved – i.e. from workers, tenants to the surrounding area – you will require a professional asbestos abatement company to take on your asbestos removal project. Any other way would simply expose your building to severe health risks and, potentially crushing legal issues.
We at FERRO Environmental bring a strong combination of asbestos removal experience and expertise – including trained and insured technicians – to readily tackle any job, including Type 1 and Type 2 asbestos abatement work in your condominium.
Contact us today to get started with a proper site inspection and clearly laid-out plan for making your condominium a truly hazard-free and risk-free living space.