The COVID-19 pandemic has made industries hyper-aware of the dangers of biohazards in the workplace, as well as the importance of safeguarding workplaces from environmental hazards.
Defined broadly, a biohazard is anything that poses a threat to the health and well-being of people in any given space. These hazards could include toxins, microorganisms, bacteria, and viruses such as COVID-19.
Now more than ever, it is crucial to be extra vigilant to ensure the safety of your workplace – but it is equally important to be aware of how to best minimize these potential risks through proper biohazard cleaning practices.
The Importance of Biohazard Cleaning Services
When it comes to safeguarding your workplace and employees from biohazards during this pandemic, your business will require more than maintaining general cleanliness.
We don't recommend that you clean your office space from biohazards yourself. However, if you do choose to do the cleaning on your own, please ensure that you have the proper training and protective equipment, in order to limit the potential of additional issues arising such as cross-contamination and infection.
While commercial cleaning services do play a role in upholding workplace hygiene on the surface level, they cannot ensure in-depth workplace health in the same way that a biohazard cleaning service can.
Most general commercial cleaning services are private and are not government-mandated. Qualified abatement and remediation contractors, on the other hand, have the experience, licenses, insurance, and biohazard commercial cleaning certification to deal with harmful pathogens and can cover a range of environmental services, including response work for sewage, lead, mold, asbestos, and even infection control.
These specialists are equipped with the proper biohazard cleaning equipment and biohazard cleaning chemicals to eradicate harmful pathogens and can deliver these services – including biohazard washrooms cleaning services and biohazard waste carpet cleaning – at cost-effective biohazard cleaning prices.
Plus, these specialized contractors have a solid regulatory framework to adhere to. The Environmental Abatement Council of Canada has provided guidelines for environmental service providers to make informed decisions and properly respond to any type of pathogen response call.
Biohazard Cleaning Companies: Abatement and Remediation
What is biohazard cleaning? Biohazard cleaning procedures such as abatement and remediation are crucial to ensuring the health and safety of your workplace.
Simply put, abatement is when you remove a pathogen (such as asbestos) specifically from a surface or space, and parts of the contaminated surface may also be removed. Remediation is when you remove the substance but leave its substrate. Taking mold out of drywall is an example of remediation – the mold is removed, but the surface remains intact.
Abatement and remediation specialists are thoroughly equipped to deal with hazardous materials removal in your workplace. If needed, contractors from a qualified company can come into your office space to take samples of the materials for lab testing and then will analyze the materials to determine whether the materials are hazardous or not.
These hazardous materials can include, but are not limited to:
Lead
PCBs
Infections – i.e. removing fungus spores and bacteria
Cleaning after accidents, biohazard spills, bloodborne and airborne pathogens
Biohazard cleaning companies can have a range of qualifications and levels of expertise, which go well beyond common surfaces. For example, abatement and remediation specialists are qualified to improve the air quality in your business through services such as duct cleaning, as well as the remediation of contaminated soil and groundwater.
Biohazard Cleaning: Two-Step Process
With the rise of COVID, the Canadian Centre for Occupational Health and Safety (CCOHS) strongly advises businesses to have an infection control plan in place to mitigate the risk of spread.
When it comes to Covid-19 cleaning, however, there can be a misconception that cleaning and disinfecting surfaces are a one-step process, but that is not the case.
Cleaning is the first component of the process. This entails removing the soiling from a surface – such as dust or debris, by using a cleaner to take the material off of the surface.
Then comes step two – disinfection. Here, the emergency surface is treated to destroy the pathogen or make it inactive at the very least through emergency biohazard cleaning. If you are targeting a specific pathogen, it is important to make sure that the disinfectant and biohazard cleaning chemical is DIN certified (meaning it is vetted and approved by Health Canada), and that it has been verified to work against the particular pathogen.
Moreover, disinfectants work by dwell time, which is how long the disinfectant sits on the surface without drying before it can be removed. This can be anywhere from 90 seconds to several minutes.
Without the disinfectant, the surface will only be cleaned – and both steps in the biohazard cleaning process are needed to remove harmful pathogens.
Prioritize Workplace Safety With The Right Biohazard Cleaning Contractors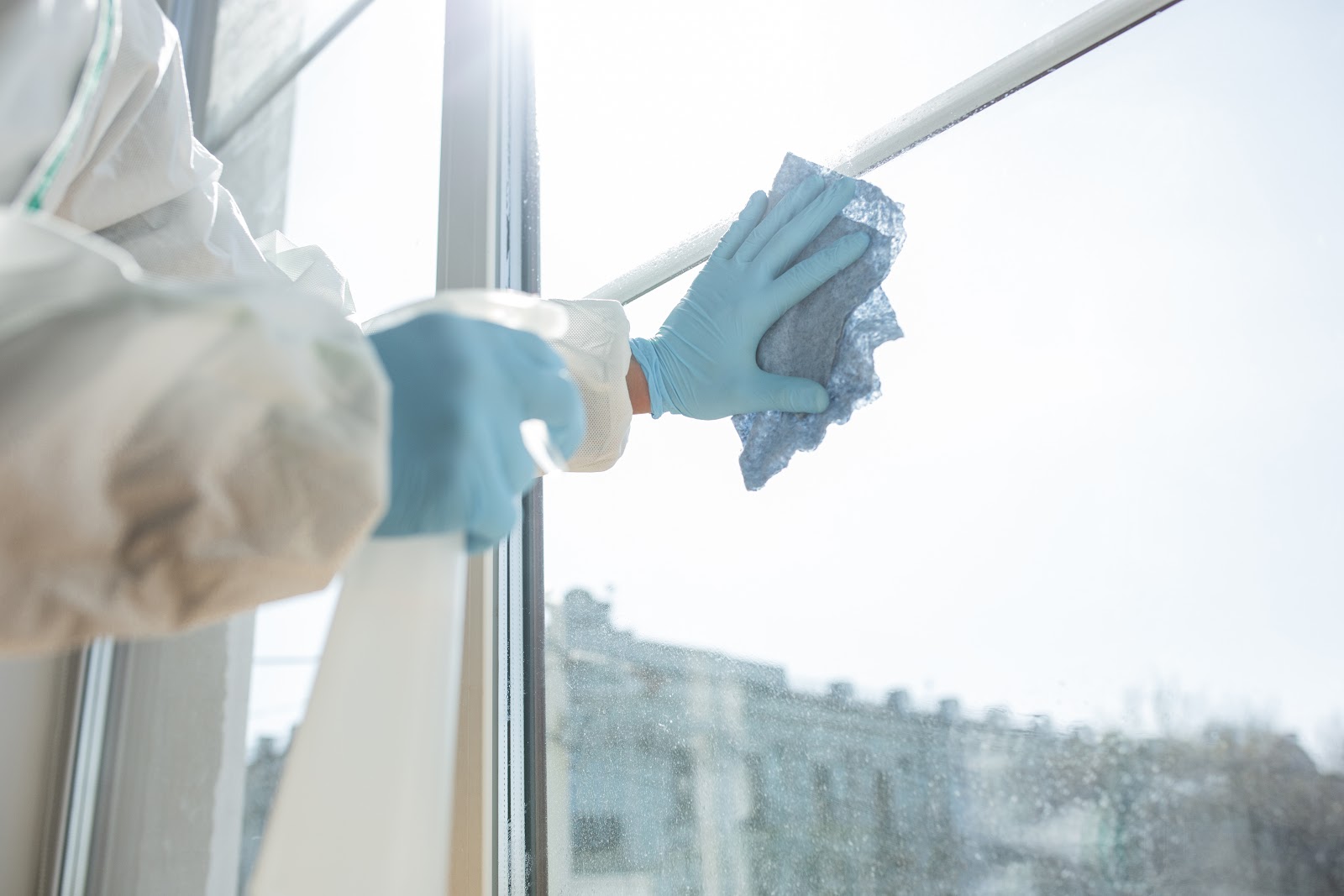 During these uncertain times, it is even more crucial that you take extra precautions to protect your business and employees from environmental biohazards.
And, with amplified environmental threats, it is imperative that you work with a licensed biohazard cleaning company that knows how to do biohazard cleaning effectively. These qualified contractors have the skills, experience, and credentials to follow best practices in cleaning biohazards and shield your workplace from harm.
With years of experience providing biohazard removal cleaning services to businesses of all sizes, Ferro Canada has qualified contractors that are able to safely remove harmful pathogens from your workplace.
In response to increased client demand, we have launched Certiclean, a commercial cleaning services division of Ferro Canada. At Certiclean, we use only commercial and hospital-grade cleaning products for our cleaning services. If a more serious issue arises with hazardous materials in your workplace, our professionals are qualified to provide you with a full HazMat response, which includes crucial disinfection and pathogen cleaning.
Contact us today – we would love to help you.
Learn more:
---