When your indoor air quality is poor - breathe easy, FERRO is there.
Environmental cleaning of air ducts is not the same as traditional duct cleaning, when dealing with high rise buildings with environmentally impacted systems using the wrong approach to decontamination can lead to disastrous accidents, unexpected costs and increased liability.
In potentially hazardous environments such as hospitals, or buildings where toxic substances are present (asbestos, mold, lead) the opportunity for poor indoor air quality is high. Duct cleaning robots are the clear solution to these occupational hazards by effectively performing a high level of decontamination/cleaning and sealing while ensuring residents, staff and operators are kept safe at all times.
So what is Robotic HVAC cleaning/decontamination? Quite simply it is the use of remote controlled robots to clean your HVAC system when traditional VAC truck or manual cleaning is not possible or effective.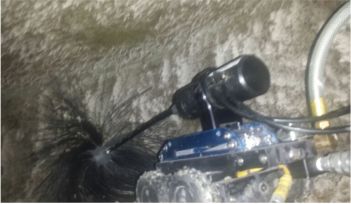 FERRO Environmental robots are the most powerful and portable robots in the industry - period. We have trained robotic technicians and certified HVAC professionals on staff that regularly make proprietary modifications to our robots and make sure they are on the cutting edge of the industry so our clients receive the absolute latest and safest services available anywhere. Our robots are able to overcome any challenge the duct may present. Combined with their versatility and manoeuvrability, as well as their exceptional obstacle avoidance and surmounting abilities, our robots are established as the most sophisticated equipment in their class.
With Ontario Reg.278/05 making the handling/removal/cleaning of HVAC systems a type 3 operation by law (when their currently is OR EVER WAS sprayed on asbestos fireproofing in the building – even if it was remediated years ago) the need for this technology has never been greater.
FERRO Environmental is the only Canadian NADCA certified abatement company with Robotic capabilities – for more info please contact us at 1-877-429-7760.
(for your free checklist on choosing the right abatement company and to avoid getting scammed by "fly by night" outfits use this link)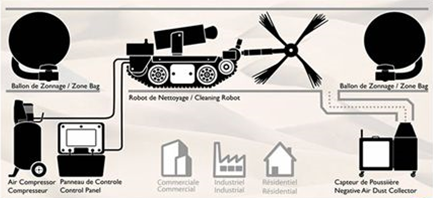 Aeroseal
As a building owner/manager/developer, when considering energy saving strategies, it always comes down to cost savings and return-on-investment.
Energy loss and poor indoor air quality are common challenges for every commercial facility with typical leakage between 15 and 30 % ……Now think…..30% of the air you are paying to treat (either heat OR cool) NEVER MAKES IT TO THE SPACE INTENDED!
With FERRO's Aeroseal duct sealing technology, the traditional time and man-power required to effectively seal ductwork has plummeted. That has made duct sealing now one of the highest return on investment strategies building owners can make when it comes to energy savings.  Paybacks for duct sealing are typically 3 to 7 years
FERRO Environmental presents Aeroseal Duct sealing technology to help Commercial Clients with:
Energy Consumption
Indoor Air Quality
Building Ventilation
Meeting Code and Specs for Duct Leakage
FERRO's Aeroseal service is the best solution for a large range of Commercial building problems. Whether the problem is energy consumption, poor indoor air quality, or commissioning the HVAC system, Aeroseal is up to the job.
If you want to reduce your energy consumption without a large capital expenditure, you should consider having your ducts tested for leakage.
Duct leakage can more than double fan energy use, and increase heating and cooling costs significantly. According to ASHRAE, just a 20% leakage in an exhaust system can increase fan energy use by 95%.  Your energy savings potential is magnified by the fact that excess flow due to leakage often creates uncontrolled air infiltration through the building envelope or excess outside air intake through the HVAC system.
The investment in Aeroseal duct sealing is typically recovered in 3-7 years.  According to the U.S Department of Energy and several other sources, Aeroseal duct sealing is one of the best energy saving solutions for property owners – and one of the most cost effective.
Poor Exhaust from Desired Areas
Duct leakage has been linked to bad Indoor Air Quality, poor humidity control and health hazards such as sick building disease and the spread of mold and other contagions within the building.
If you are having trouble getting the correct air changes per hour or trouble pressurizing some zones within your building, it could be due to duct leakage. When 20% or more of the air that is passing through your ducts is leaking out, it is not surprising that some of the zones are not getting enough air.
In tall buildings seasonal stack effects and wind loading often increase the ventilation problems from improperly sealed toilet and kitchen exhaust systems.  Buildings with self-regulating exhaust dampers are particularly prone to excessive energy consumption and poor indoor air quality associated with leaking exhaust shafts.
Problems Identified During Building Commisioning
In a recent survey, over 74% of commissioning professionals agreed that buildings have significant duct leakage.
If the HVAC cannot be properly balanced or you are not getting adequate flows through some supply diffusers or return grilles, you should consider getting your duct system sealed with Aeroseal. Aeroseal is able to seal leaks in otherwise inaccessible duct systems is both new and existing buildings.
Problems Identified by Test and Balance Report
If a Test and Balance report shows that you are not getting adequate flows to some grilles, or that the grille flows do not add up to the flow at the fan, you should consider getting your duct system sealed with Aeroseal. Aeroseal is able to seal leaks in otherwise inaccessible duct systems is both new and existing buildings.
Increased Cooling or Heating Capacity Needs
If your cooling or heating needs have increased, perhaps due to higher occupancy, you may be able to meet the increased needs simply by sealing the leaks in your duct system.
If your ducts are leaking 20% of the air that they are supposed to be delivering to the zones, simply sealing those leaks can increase your ability to cool zones with increased cooling loads. Aeroseal generally seals 80-90% of the leakage encountered.
(for your free checklist on choosing the right abatement company and to avoid getting scammed by "fly by night" outfits use this link)